DuTeau Buying Express
After taking your family to the Lincoln Children's Zoo or Sunken Gardens, come home and begin the process of upgrading to a new Subaru SUV or car. DuTeau Subaru, serving Lincoln, has a step-by-step journey that you can use to get the best deal and speed up your purchase. Whether you've selected the new Subaru Ascent or a pre-owned Subaru Outback, you'll save hours at your Lincoln Subaru dealership by opting for the 100-percent virtual experience.
What can you expect when you finance or lease your car or SUV online through DuTeau Subaru? That's simple. Once you've selected your future ride, you'll click on the vehicle listing and navigate to the digital tools on the right-hand side of your screen. The prompts will lead you through the following car-buying activities:
    Personalizing Monthly Payments
    Appraising Your Trade-in Model
    Choosing Vehicle Protection Plans
    Applying for Auto Financing
    Scheduling Your Test Drive


We know that choosing new or used transportation is not the only task on your to-do list. That's why we want to be as streamlined as possible. You don't need to come to us. You can stay where you are and do everything at your own pace. If you run into any issues or have questions, team members at DuTeau Subaru are available and would be happy to speak with you.

Learn more about each step in the process below and save time when you shop for your next vehicle with us!
---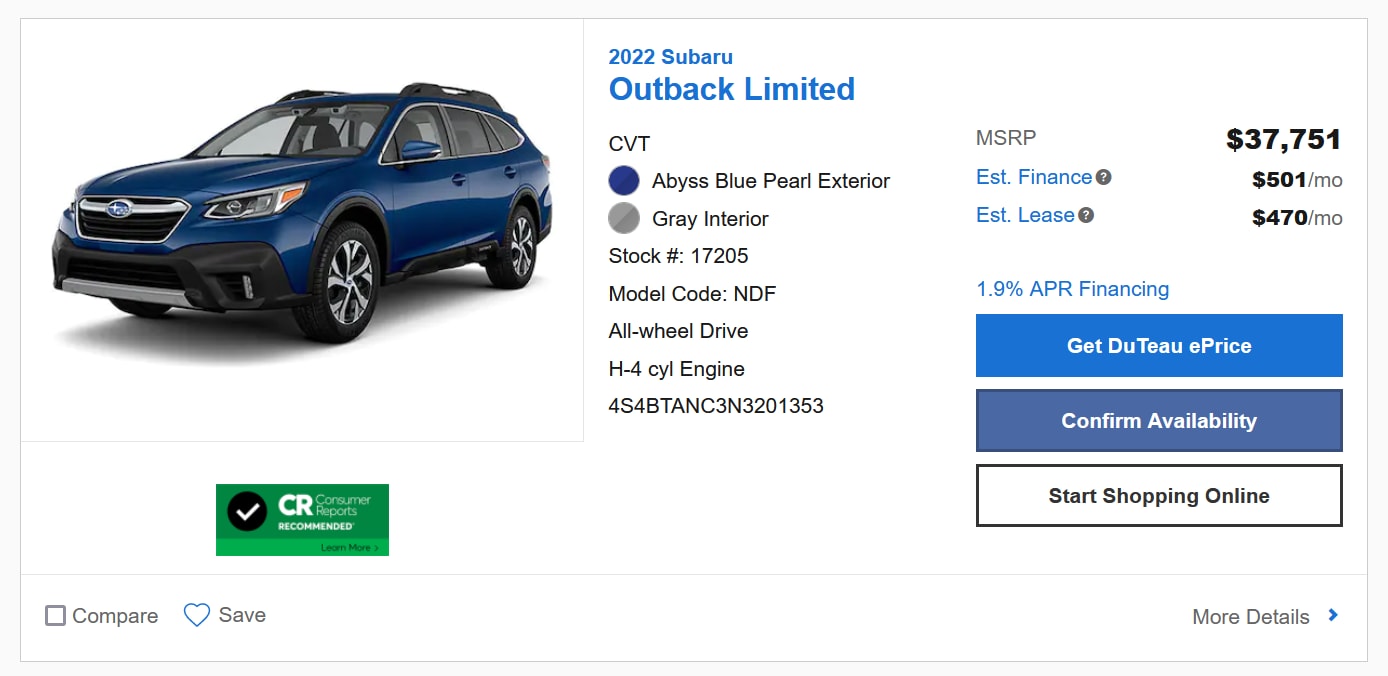 Select Your Vehicle
Start by viewing our inventory to find that perfect new vehicle. Use a variety of features to narrow down the search. No matter what suits you best, we guarantee our online inventory will make it easy and convenient. Click the Start Shopping Online button to move on to the next step.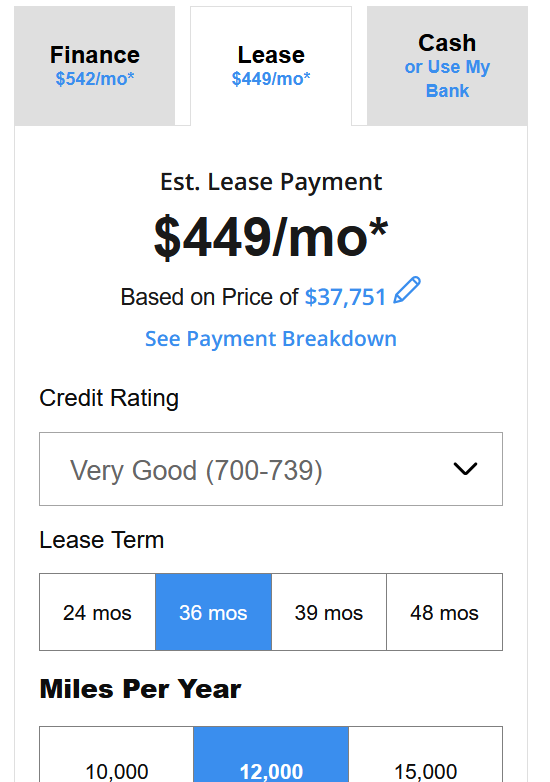 Personalize Your Payment
Indicate whether you'll be financing, leasing, or paying cash. You can also tell us how much your down payment will be and your desired term length. If you're unsure whether to lease or finance the new Subaru Forester, you can compare the two monthly expenses.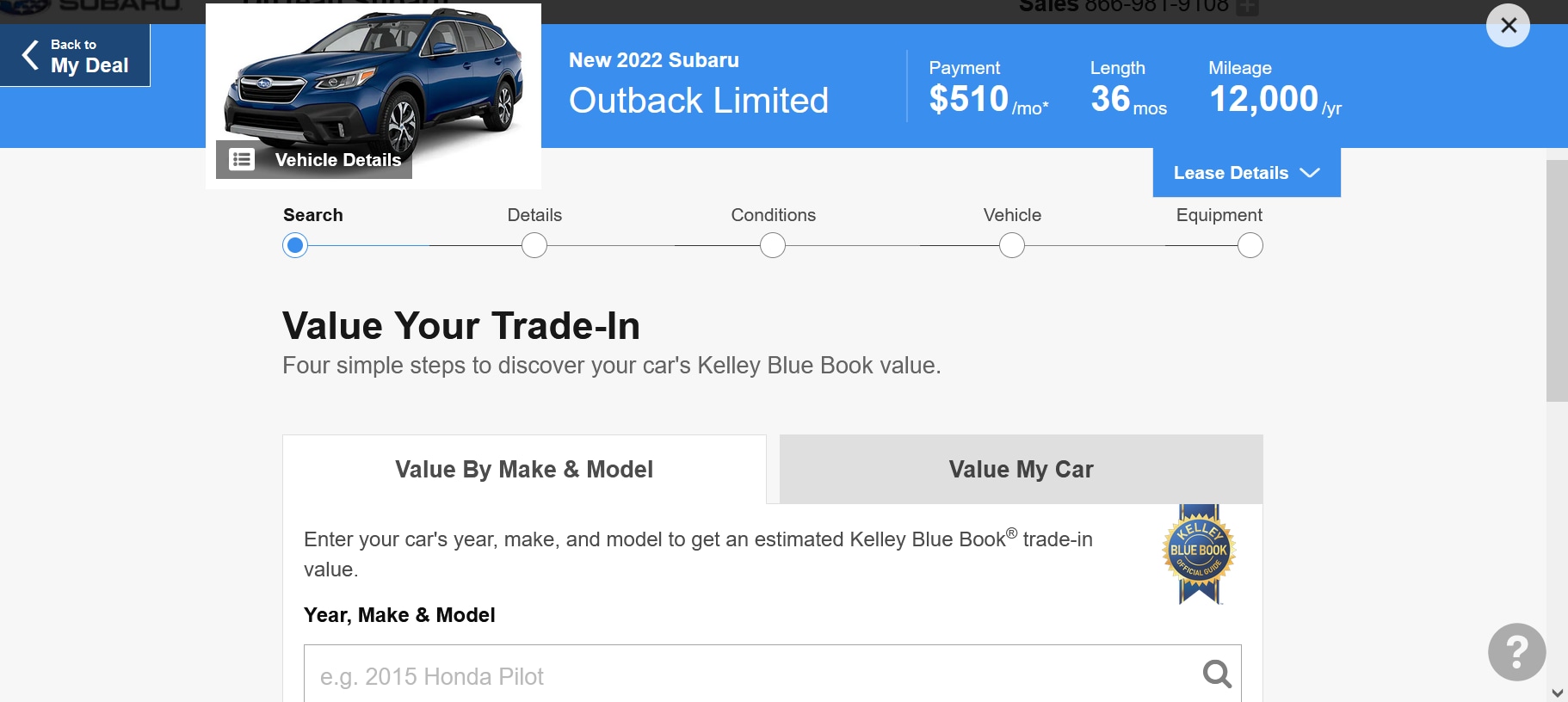 Value Your Trade
We provide up-to-date Kelley Blue Book® Values for all potential trade-in vehicles. You can appraise your used car virtually by supplying helpful information like its trim level, mileage, color, VIN, make, model, year, options, and current condition.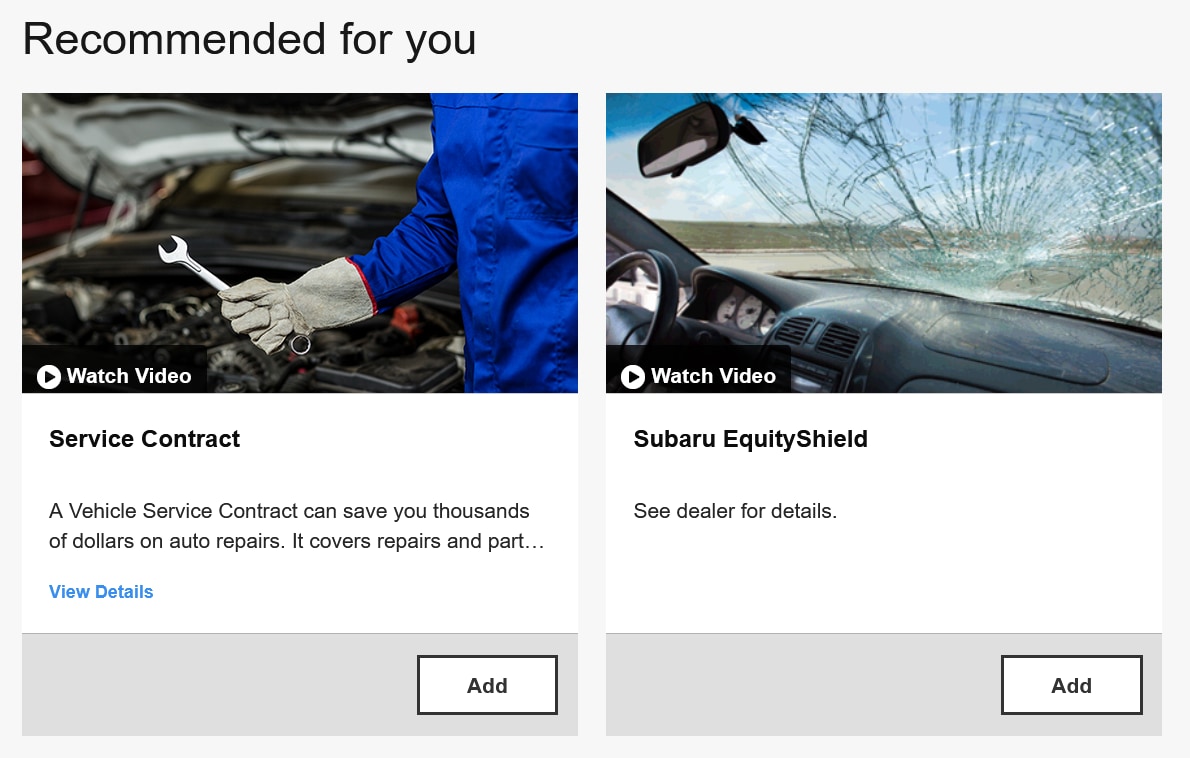 Select Protection Plans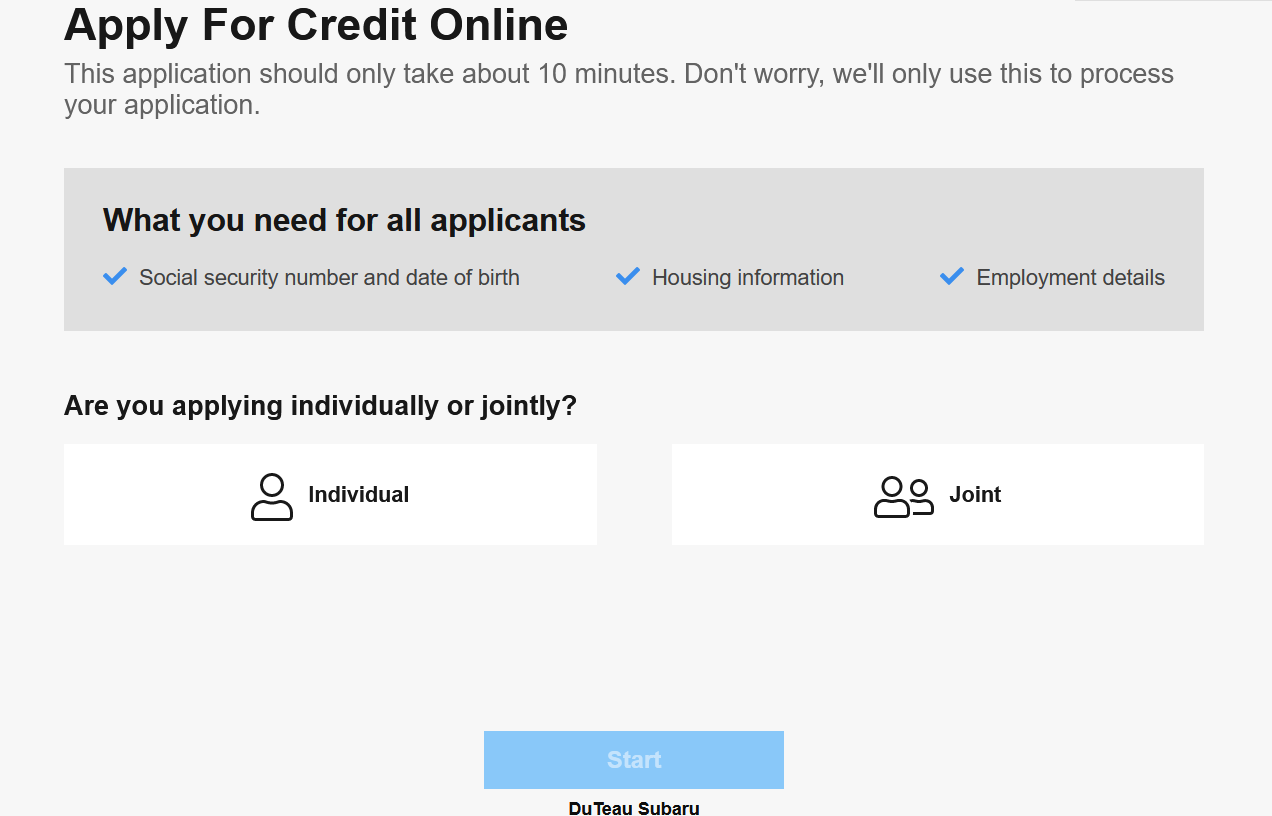 Apply For Financing
Applying online will save you time at DuTeau Subaru waiting for lender approval. All your information will be kept secure. It only takes a few minutes to complete this portion and send it off to your Lincoln Subaru dealer to get approved for your new or used vehicle.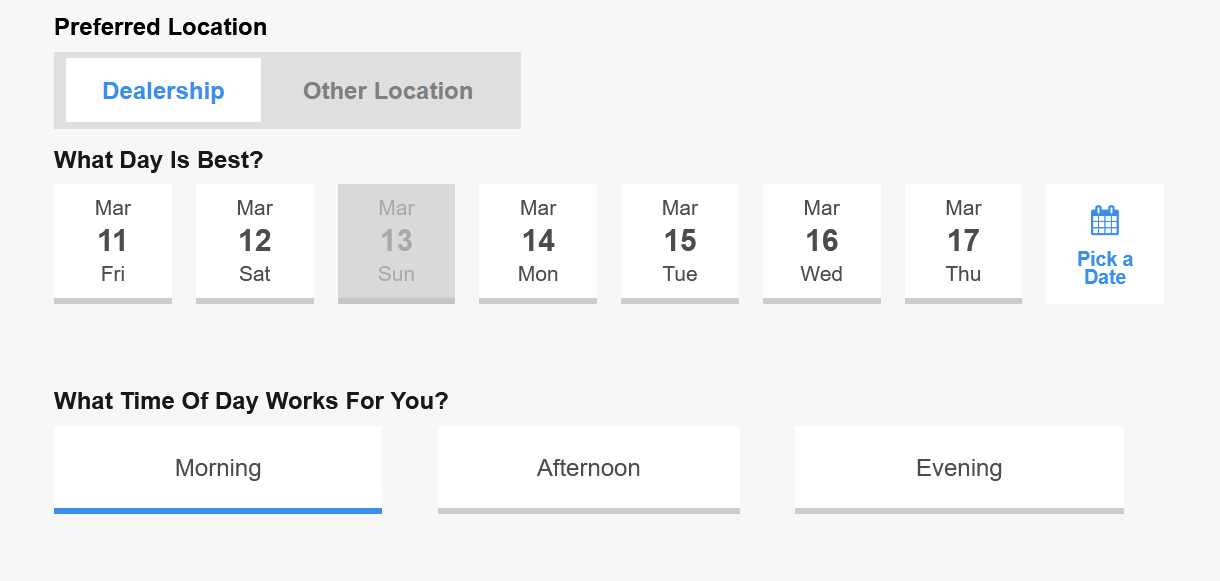 Schedule Test Drive
Are you excited about getting behind the wheel of your new Subaru? Let us know which day you'd like to come by our Subaru showroom for a test drive. We'll have your vehicle ready to go when you show up at 2750 Jamie Lane in Lincoln, NE.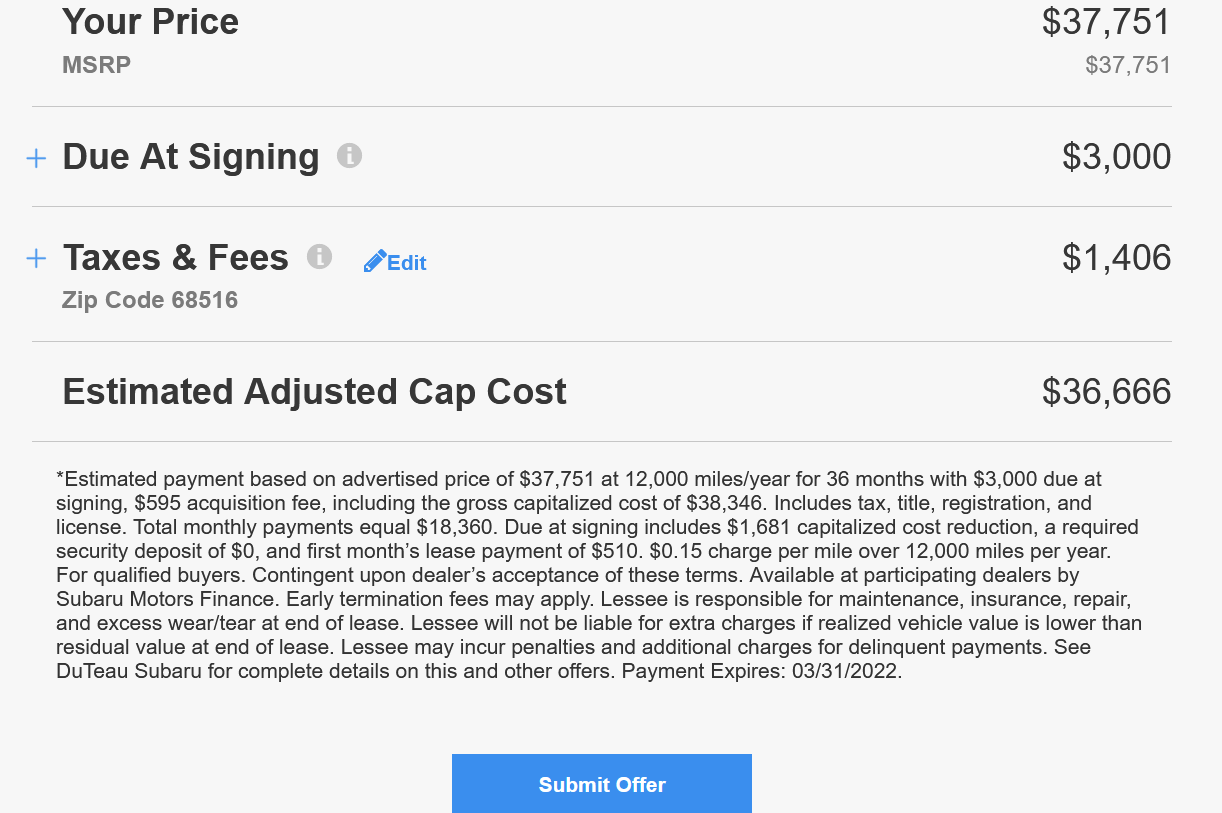 Review & Schedule Delivery
The final step will be finishing up your offer and submitting it to DuTeau Subaru. Once you've clicked the Submit button, you'll be able to relax. The next step will be ours. We'll review all your information and get in touch with you shortly.

---
Once you have started any of the steps in the above process, you can save your progress and return later to pick up where you left off or to get a link to share. Just click "Get My Deal Link" in the dashboard and the following box will appear with a provided link.

If our Sales staff is assisting you, they can copy the link and send it to you.

Already Submitted an Offer?
Click on the "Lookup My Deal" section on the right sidebar of the vehicle details page. You will be prompted to verify your email address and a one-time PIN code will be sent to you.
Additional Questions About Buying Online?
* Indicates a required field
You'll have everything you need to research new and used vehicles at home. We have organized inventories that showcase every model you'd find at DuTeau Subaru in Lincoln, NE. You can narrow your hunt with our filtering system and view photos and specifications. You'll know when you cross paths with the right ride. After you find it, you'll move to the first official step and personalize a payment.