The 2021 Subaru Love Promise Customer and Community Commitment Award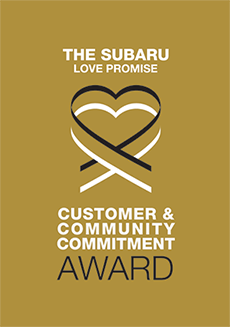 We've been nationally recognized for our dedication to our customers, our community, and the Subaru Love Promise.
We're honored to receive the 2021 Subaru Love Promise Customer and Community Commitment Award. This award nationally recognizes elite Subaru retailers who provide an exceptional customer experience at every interaction with Subaru. These retailers have also demonstrated an outstanding commitment to supporting passions and causes in their local communities in important areas such as the environment, community, health, education, and pets.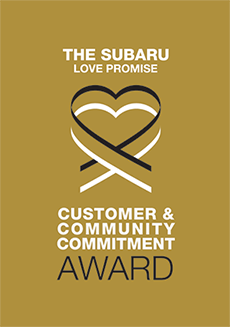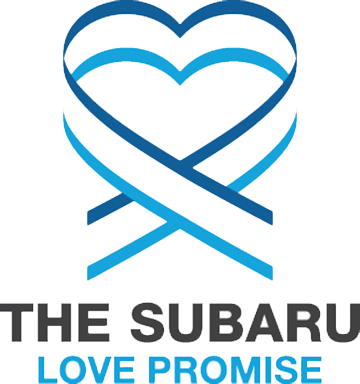 What is the Subaru Love Promise?
Subaru and our retailers believe in making the world a better place and the Subaru Love Promise is our vision of respecting all people. This is our commitment to show love and respect to our customers and to work to make a positive impact in the world.
How is DuTeau Subaru dedicated locally to the Love Promise?
Our Love Promise can be seen in various partnerships with local charities and non-profits. We're grateful for the opportunity, not only to be a part of our community, but to serve it as well.
Capital Humane Society, I Love My Dog Expo, Nebraska No Kill Canine Rescue, The Cat House
NET Radio Nebr. NPR Station
Ne Folk & Roots Music Festival
Love Promise Stories from DuTeau Subaru
Subaru and DuTeau Subaru believe in making a positive impact on the communities in which we live and work. We uphold that belief through our Love Promise Community Commitment. Every month, we select inspiring stories from customers and partners from around our area who strive to support our collective commitment and feature them here
Bringing Hope and Joy this Holiday Season - Emily M
In conjunction with the thirteenth annual Subaru Share the Love® event, DuTeau Subaru hosted a Stuff the Subaru Toy Drive throughout the month of December. For this event, customers were encouraged to stop into the dealership and stuff a Subaru full of donated, unused toys for children with critical illnesses in Nebraska. For many of our wish kids, their wish experience begins with a toy. It's the wish granters' way to get kids excited. What looks like a normal toy to most, turns into a prized possession to a wish child—something they can cherish far after the wish experience has ended. And after the unprecedented year 2020 turned out to be, wish kids need hope and joy now more than ever. Make-A-Wish Nebraska was also honored to be selected as a hometown charity by DuTeau Subaru. As a hometown charity, customers purchasing or leasing a new Subaru vehicle at DuTeau had the option to donate directly to fulfilling wishes for children fighting critical illnesses in Nebraska. We are grateful to DuTeau Subaru and its customers for giving local wish kids the gift of hope this holiday season.
---
Offering Peace of Mind and Kindness to a Stranger - Susan D
I own a 2016 Subaru Outback (purchased after my 2005 Subaru Outback saved my life, but was totaled in the process). In October 2020, after nine days on the road alone, I was traveling from Colorado to my home in Michigan. While driving at dusk in Nebraska on busy I-80, my car suddenly stalled out. Fortunately, I was able to pull over to the side of the road safely. After about an hour, I was able to restart the car and drive about 2 ½ hours to Lincoln, NE, where a Subaru dealership is located. Knowing that I was still approximately 750 miles from home, I called DuTeau Subaru the next morning. Although the dealership had not yet opened for the day, Service Advisor Cheryl Gillespie answered the call. I explained my dilemma and she explained that her service department had a very busy day ahead. Nevertheless, she told me to bring in the car and she would do her best to help. She delivered on that promise. Despite having a full schedule of appointments for regular customers that day, Service Technician Jacob Kunkle examined my car (Cheryl told me that Jacob is one of their very best). Jacob even took it for a test drive. Without inconveniencing their other customers, they had me back on my way in a matter of hours. Not only did they do me the favor of taking the time to look at my car (for a very reasonable price), both Cheryl and Jacob spent time talking with me. Both went out of their way to offer me peace of mind and kindness … even though they knew I would not be a return customer. Alone in an unfamiliar state, I felt the comfort of being part of the Subaru family. The next day, Cheryl followed up with a phone call to make sure I had arrived home safely. DeTeau Subaru really does make good on Subaru's Love Promise, and I will be forever grateful.
---
Donated Subaru Helps Deliver Meals - Michaela Y
Tabitha Meals on Wheels has been extremely grateful to have our donated Meals on Wheels Subaru throughout COVID. As our meals have increased, we have been able to use the Subaru to deliver more meals. Tabitha staff members regularly are able to take it to accommodate when volunteers are unable to drive their routes as well. We are extremely grateful for the awareness the vehicle brings to our community need for Meals on Wheels.
---
Duteau Subaru makes a difference. - Tina R
Recently, the needs of the kids and families in our community have increased because of the current public health crisis. CEDARS is as committed as ever to carrying out our mission of helping children and youth achieve safety, stability and enduring family relationships. Thanks to the generosity DuTeau Subaru made possible by their Share The Love campaign along with caring individuals in our community, that important work can continue.
---
Subaru Helps - Michaela Y
Throughout COVID, with the rise in Tabitha Meals on Wheels recipient, we can rely on one thing--our Subaru. We have been grateful to have received a donated Subaru through Meals on Wheels America. We have relied on that Subaru more than ever throughout this time.
---
DuTeau Subaru Loves Pets - Sara Q
Eric Klein and his team at DuTeau Subaru in Lincoln, Nebraska out did themselves with a donation to Capital Humane Society of toys, food and animal care products. They collected these items during the month of October for the Subaru Loves Pets campaign. Without the support from business like DuTeau Subaru helping to get the word out to the community we would not be able to provide the best care possible for all the animals that come through our doors. By working together we are able to make a difference in the lives of animals in the communities we serve. It is because of people like Eric and his entire team that we are able to help animals and serve the Lincoln community.
---
Sharing the Love this Holiday Season - Emily M
In conjunction with the twelfth annual Subaru Share the Love® event, DuTeau Subaru is hosting a Stuff the Subaru Toy Drive throughout the month of December. For this event, customers are encouraged to stop into the dealership and stuff a Subaru full of donated, unused toys for children with critical illnesses in Nebraska. For many wish kids, their wish experience begins with a toy. It's the wish granters' way to get kids excited. What looks like a normal toy to most, turns into a prized possession to a wish child—something he or she can cherish far after the wish experience has ended. Make-A-Wish Nebraska is very grateful for the generosity of DuTeau Subaru and its customers. This holiday season, they have proven to be a caring community of people who are helping to improve the lives of kids battling critical illnesses. "Subaru has been a long-time supporter of Make-A-Wish through the Share the Love® Event," said Brigette Young, President and CEO of Make-A-Wish Nebraska. "We're excited to kick-off this year's Share the Love® campaign with a local 'Stuff the Subaru' event. We are very thankful for wonderful partners like DuTeau for not only supporting our mission, but also allowing us to share our mission locally."
---
Braxton wins award - Michaela Y
Braxton Anderson, a 10 year old, will win Outstanding Youth in Philanthropy award by the Association of Fundraising Professionals in Nebraska. Braxton has been featured delivering meals for Tabitha Meals on Wheels with our Subaru! Below is his submission. How could you NOT nominate Callaway, Nebraska native Braxton Anderson? 10 year old Brax has a heart as big as his signature cowboy hat. Despite fighting a lifelong medical condition that makes it challenging to digest food and absorb nutrients, he puts the needs of others first who rely on Tabitha Meals on Wheels for their daily nutrition. Brax is an absolute inspiration and is a natural-born philanthropist. Clearly his parent's TR and Cassie are setting an amazing example.What impact has this person made in our community? (71 words) Braxton's 12 quarter donation to Tabitha Meals on Wheels started a chain reaction and grew to over $16,000 (and counting). Tabitha's lifeline program that delivers to 500 Lincoln residents every day, 365 a year and allows them to remain independent in the comfort and security of their home. His youth, personality and caring captivates people's attention. Brax demonstrates the power of one and how a small donation makes a big difference.
---
A Small Gesture Turns into a Big Difference - Michaela Y
In the heart of Nebraska lives a kid with an even bigger heart! Callaway's Braxton Anderson has impacted more lives in his short nine years than most of us could hope to touch in a lifetime. His recent $3 donation and a request for others to follow his lead has turned into almost $12,000 and counting for the longstanding Tabitha Meals on Wheels program—all thanks to Brax (as friends and family affectionately call him). Tabitha Meals on Wheels' daily meal delivery service allows friends and neighbors to remain independent at home. This program relies on generous donations to cover an annual $500,000 budget shortfall, as 70 percent of recipients cannot afford the $6.25 cost per meal. On repeated trips to the hospital in Omaha, Brax and his family have stayed at the home of his cousins (really more like an aunt and uncle), Matt and Christie Hinrichs. Christie happens to be the President and CEO of nonprofit Tabitha, a major Senior Care provider in the state. "He's overheard Christie's heartwarming stories about dedicated donors who've helped out Seniors, and not only did he listen and learn, he took action," said Brax's mom, Cassie. Nine-year-old Braxton Anderson's $3 donation to Tabitha Meals on Wheels has grown to nearly $10,000 and counting. How did a $3 gift have so much impact? It was all about Brax and his story. You see, the Anderson family has its own set of challenges, as Brax was born with a birth defect, gastroschisis. That defect later caused the loss of his intestines and resulted in short bowel or gut syndrome, a complex condition in which your body is unable to absorb enough nutrients and calories from the foods you eat. Brax has undergone 75 surgeries, takes medication eight times a day and has a broviac line which allows for long-term access of blood and nighttime IV nutrition—yet still is concerned that others get the nourishment they need. Any fever of 100.5 or higher means hospitalization because it could signal a deadly bloodstream infection. "Brax is an absolute example of selflessness," shared Hinrichs. "This compassionate kid knows a thing or two about caring because he's been surrounded by great examples and is so well cared for by his amazing family, friends and health professionals." She added, "His ability to want to help others is a testament to his parents' positive attitude and his bright spirit and has spurred others to give. He makes me so very hopeful for the future. One donation literally led to another as the story of his kind gift got passed on and on." To date, Braxton's $3 donation to Tabitha Meals on Wheels has grown to nearly $15,000! He was able to deliver Meals on Wheels to Lincoln residences while riding along in the donated Subaru. Many people commented on the Subaru and the impact Braxton has on the community.
---
DuTeau Subaru Loves to Care - Jenna S
We arrived to a full waiting room at the Southeast Cancer Center in Lincoln on the morning of June 14th. We were greeted by Jeanen France of the Cancer Center greeted us with a smile and a story of how thrilled the patients were last year as she would walk into their rooms and inform them that they would be receiving a "brand new blue Subaru" ...blanket, and that if they found a key inside they were to call her immediately. She laughed as she shared the story, and you could picture the smiles on the faces of those she had encountered, brightening an otherwise stressful time. After the story Eric Klein and his employees from Du Teau Subaru unloaded the blankets, and Dr. Cary Peterson, Dr. Nathan Green, and Dr. Alan Berg, all graciously came out to accept the blankets and show their appreciation for all that DuTeau Subaru was doing to bring warmth and caring to cancer patients in Lincoln. Du Teau was amazing as they all came to help unload and you could tell that the experience meant as much to them as it did to the patients that would receive the blankets and care cards. Our Leukemia & Lymphoma Society staff was later able to visit the dealership where they had up an area for people to continue making Care Cards! It was a great day for LLS, DuTeau Subaru, and Southeast Nebraska Cancer Center patients and staff!
---
Tabitha Meals on Wheels Subaru - Michaela Y
Tabitha Meals on Wheels has had so much fun spotlighting our donated Subaru Outback. So far in 2018, we have had the ability to recognize DuTeau Subaru as a sponsor for Into the Blue Donor and Volunteer Recognition Luncheon, as well as the Tabitha 10k. At each event, Duteau Subaru was recognized and the vehicle was on hand for people attending to check it out. Tabitha staff member, Gina Cotton, was able to spotlight the Subaru Outback during a recent event. On April 28th, Christ Lutheran hosted an event for Tabitha Meals on Wheels. Tabitha Take-over = Christ Lutheran Church covers ALL Tabitha Meals on Wheels routes. Gina Cotton was on hand to assist Christ Lutheran Church deliver meals and to ride in the Subaru Outback with them. Volunteers loved the features of the Outback and shared that it was a great way to spread the word about Meals on Wheels as well as hold many meals to assist the Lincoln community.
---
Subaru Outback 50 Cars for 50 Years- Tabitha - Michaela Y
On November 15th, Tabitha unveiled the Subaru Outback through an event at Tabitha Meals on Wheels where we invited news crews and our local Subaru retailer. At the event, Tabitha had a volunteer who has been delivering for 50 years that shared the impact of Meals on Wheels. Eric Klein from Duteau Subaru shared how seniors rely on Meals on Wheels and how excited Subaru was to take part in this event. Gina Cotton, from Tabitha discussed how thankful Tabitha is to Subaru for the donation. Immediately following the event, 10/11 news filmed meals getting packed up in the Subaru Outback and driving off for the Meals on Wheels delivery with Mike Minnick (President of Duteau) and Eric Klein (Subaru Sales Manager) from Duteau Subaru. 10/11 news proceeded to go on the Meals on Wheels delivery with Gina, Eric, and Mike with Gina mic'd up. Tabitha was able to spotlight that Meals on Wheels is more than just a meal, it is also a safety check and often times the Meals on Wheels volunteer is the only person the recipient sees every day. This news story ran on the 4pm, 5pm, 6pm, and 10pm news on November 15th. Tabitha also shared the story as well as photos from the event on social media. https://www.facebook.com/TabithaHealthCare/ https://www.instagram.com/tabithahealthcare/?hl=en https://www.linkedin.com/company/2210628/ https://twitter.com/TabithaHealth
---
Spreading Warmth and Hope - Alisha P
On July 6th, 2017, together for the second year the DuTeau Subaru in Lincoln, Nebraska met up with the Leukemia & Lymphoma Society to spread hope and warmth throughout Southeast Nebraska Cancer Center. After unloading two Subaru's full of 80 blankets, the team set out to deliver blankets to patients receiving treatment to provide comfort, hope and warmth. Southeast Nebraska Cancer Center was very thankful for the donation. "This is a terrific community-wide project that we are excited to be a part of with DuTeau Subaru and the Leukemia & Lymphoma Society. We are eager to start giving these special packages to our patients." Steven G. Dunder, MD, Medical Oncologist. LLS is grateful to the generosity of Subaru and their customers for being true community partners and sharing the love with cancer patients and their families! We look forward to continued partnership!
---
Helping Keep Cancer Patients Warm - Brianne K
The Leukemia & Lymphoma Society (LLS) – Nebraska Chapter was proud to partner with DuTeau Subaru in Lincoln, Nebraska in June during Subaru Loves to Care month to provide support to patients fighting cancer. DuTeau Subaru provided 60 blankets to be donated to local cancer patients to provide comfort and warmth. Subaru staff and customers were encouraged to write a message of hope to local patients through "care cards" and receive a LLS/Subaru bracelet to help spread awareness of LLS's mission to find a cure for leukemia, lymphoma, Hodgkin's disease, and myeloma while improving the quality of life of patients and their families. We had a great experience working with Eric Klein, Sales Manager at DuTeau Subaru. Eric and I (Brianne Kemp with LLS) had the opportunity to deliver blankets to Bryan Health and meet with Ruth VanGerpen, who leads the cancer support groups at Bryan Health. She looks forward to delivering the blankets to patients at the support groups, and knows they'll be put to good use both at the clinic and at patients' homes. Bryan Health was so thankful for the donation (and enjoyed exploring the Crosstrek pictured!). I'm also excited to be working with Eric at DuTeau to get myself into my first Subaru - an Outback! It has been a pleasure working with Eric and DuTeau Subaru, and I look forward to continued partnership!
---
Share the Love 2015 - Kara F
DuTeau Subaru is always doing wonderful things for the community. This past year the Lincoln Children's Zoo was picked for the Share the Love Event. A check of $15,000 was presented to the Zoo, even Johnny the African Serval came out to show his appreciation! Can't wait to see what DuTeau is going to do next!
---
The Gift of a New Home - Robert D
Subaru of America presented us with a check for $11,927.00 on behalf of DuTeau Subaru. On average it costs Capital Humane Society $250.00 per unwanted pet to find a new home. This includes spaying/neutering, microchipping, vaccinating, other surgeries that might be needed, grooming, dental work, etcetera. This generous gift helped approximately 50 pets find new homes. Beyond the 50 pets this gift has enriched the lives of the people who are impacted by those pets. We are truly grateful to DuTeau Subaru and Subaru of America for helping make this possible. Sincerely, Robert A. Downey, President/CEO Capital Humane Society
---
Going the extra mile - Barbara F
John did an excellent job of helping me with this purchase and making sure that everything was explained clearly once the vehicle was purchased. Also, the gentleman who explained extended warranty options was extremely helpful. We changed our mind about purchasing an extended warranty and ding repair because of his sincere manner and clear explanations. I also am "sold" on this service department at DuTeau. I love driving my new Subaru!
---